Timothy Georgian
Born
2703
Died
2790
Species
Human

Other Info

Occupation
Supreme General of The Ollieland Galaxy (Retired)


Soldier

HomeWorld
Enkland
Family
Prince Daniel of Enkland (Father)


Lady Catherine Georgian (Mother)
Susan Georgian (Wife) 2 Children
Supreme General Timothy Georgian
(Timothy Daniel Ronald; September 9th 2703 - December 3rd 2790) was a member of the
Enklish Royal Family
, as well as Supreme General of The Ollieland Galaxy from 2750, until his retirement 34 years later.
Early Life and Family
Edit
Timothy Georgian was born on the 9th of September 2703, in Enkland. His father was Prince Daniel of Enkland, the second son of King Geoffrey of Enkland and Queen Anne of Enkland. This made Timothy the nephew of King Christopher of Enkland, and cousin of King Ewan of Enkland, who Timothy was close to. Timothy's mother was Lady Catherine Georgian, a daughter of Sir Ronald Van Wilson, who Timothy is named after. Though his Van Wilson side of the family, Timothy is a descendant of another Supreme General, Sir John Van Wilson, who was Supreme General from 2640 until 2646. This also makes Timothy a second cousin of yet another Supreme General, Donald Van Wilson, who was Timothy's successor as Supreme General. Timothy had a relaxed upbringing, and had very good relationships with both of his parents - but particularly his father. Timothy joined the cadets when he was 10, and joined the army when he left school in 2719.
Military Career and Personal Life
Edit
Timothy was very serious about his military career. By 2730, he was a Corporal, and he was promoted to the rank of General in 2740. Timothy met Susan McGuiness in the mid 2720s. They got married on the 11th of March 2729. They had 2 children in their marriage:
In 2750, Supreme General Terence Bleach retired after 20 years as Supreme General. Timothy was urged to apply to take his place, which he did. Timothy was elected to replace Bleach on the 3rd of August 2750, and he was henceforth officially titled "Supreme General Georgian".
Later Life
Edit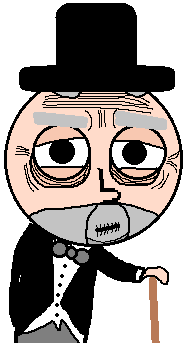 After 35 years of service, Timothy decided to retire from his role as Supreme General, at the age of 81. He, however, unlike other Supreme Generals, continued to make many more public appearances. In 2787, he was offered a job as "Adviser to the Supreme General", and he accepted. He acted as adivser for 2 Supreme Generals, until he was forced to retire by his children, who were concerned the job was causing too much stress. Timothy died on the morning of the 3rd of December 2790, at the age of 87. As well as his 2 children (one now deceased), Timothy currently has 6 grandchildren, 21 great-grandchildren and 1 great-great-grandchild.
Community content is available under
CC-BY-SA
unless otherwise noted.