Master Bakchew Kenwan
Born
2750
Died
2815
Species
Wookie

Other Info

Occupation
Jedi
HomeWorld
Dako Nga
Family
Master Wan Kenwan (Father)


Grand Master Wekchab Kenwan (Great-Great-Grandfather)
Master Bakchew Kenwan
(October 16th 2750 - July 21st 2815) was a Wookie Jedi Master, most widely known for his hour long interview discussing The Jedi Order in 2776.
Early Life
Edit
Bakchew Kenwan was born on Dako Nga on the 16th of October 2750. He was the 3rd of 8 children belonging to jedi Master Wan Kenwan II and his wife, Quenwan Kenwan. His paternal great-grandparents moved to Dako Nga in 2682, from the village of Nasoom on Theoland. His great-great-grandfather was Grand Master Wekchab Kenwan. Through Wekchab, he is a direct descendant of the legendary Theoish Jedi Labungatun. When he was 3, his father took him to The Jedi Temple on Ollieland, where he lived for the rest of his life.
Life as a Jedi
Edit
Bakchew was apprenticed to his grandfather, Master Wan Kenwan I, as a padawan in 2760. Previously, like all younglings, he was trained in the youngling school from when he joined until his 10th birthday. He was trained by Grand Master Odoy, who had been the master of Bakchew's grandfather. Odoy's own master was the legendary Grand Master Plo Koon, who died 24 years before Bakchew's birth. Bakchew trained under his father for another 10 years, before become a Jedi Knight in 2770.
Interview
Edit
He is widely famous for his interview in 2776. The interview was part of a documentary series lasting a week in 2776. The series was aired as a special to mark the 50th anniversary of Plo Koon's death. Grand Master Odoy was also interviewed during the documentary.
Later Life and Death
Edit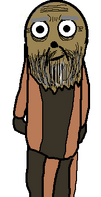 Bakchew was made a Jedi Master in 2793, at the age of 43. He never married, had children, or took on any padawans. He spent his days researching The Jedi Order's history, and going on occasional missions. On the 9th of July 2815, Bakchew was sent with some soldiers to investigate a strange creature lurking in a cave in Ollieland. The creature managed to kill all the soldiers, and mortally wounded Bakchew, before he managed to kill it. Bakchew was admitted to hospital when he was discovered 2 days later. His condition got worse, and he died at 5:55 on the 21st of July 2815. He immediately became One with The Force.
Community content is available under
CC-BY-SA
unless otherwise noted.