Lord Vladmir Vampire II
Born
2679
Died
2780
Species
Vampire

Other Info

Occupation
Lord of the Vampires, Ruler of Vamparia
HomeWorld
Vamparia
Family
Lord Marcus Vampire (Father)

Lady Elvedica Vampire (Mother) Lady Ermentrude Vampire (Wife) 2 Brothers 3 Sons
Lord Vladmir Vampire II
(Vladmir Ivan Octavius Vampire;February 21st 2679 - August 4th 2780) was the ruler of Vamparia, and Lord of the Vampires from his father's death in 2707 until his own a record breaking 73 years later.
Early Life
Edit
Vladmir Ivan Octavius Vampire was born on the 21st of February 2679, in Vampire Castle, in the centre of Vamparia. His father was Lord Marcus Vampire and his mother was Lady Elvedica Vampire. At the time of Vladmir's birth, Vamparia was ruled by his great-grandfather, the infamous Dark Lord Vladmir of Vamiria.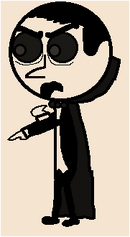 Lordship and Marriage
Edit
Following the murder of his father on the 31st of October 2707, Vladmir was made crowned on the 3rd of November, at the age of 27. A year later, in 2708, he married Ermentrude Rolux. Their first son would become Lord Ivan Vampire, who was born in 2710. 2 years later, Ermentrude gave birth to twin boys - Yuri and Kudeyar. Ermentrude died at the age of 65 in 2749.
Son's Marriage
Edit

In 2730, at the age of 51, Vladmir travelled to The High-Lands to ask his long-time friend and ally, Baron Eustace, to accept a betrothal between his daughter, Eleanor, and Vladmir's son, Ivan. Eustace accepted, but when Vladmir returned in 2737, he discovered that Eleanor's cousin, Chaz Dengina, also wished to marry her. Eustace proposed a fight to the death between Ivan and Chaz - whoever won would be his daughter's bride. During the fight, Chaz accidentally killed himself by falling from a high ledge. Ivan married Eleanor, and this sparked the long-term feud between the Vampire and Dengina families.
Later Life
Edit
Vladmir was briefly overthrown by Augustus Montgomery in 2770, but was soon re-elected by the people after Montgomery's rule became terrible and oppressive. In the 2770s, Vladmir began retiring from the public eye. His first great-grandchild was born in 2768.
Platinum Jubilee and Centenary
Edit
Similar to the Platinum jubilee of George III of Enkland, the celebrations to mark 70 years on the thrown boosted the royal family's popularity immensely. The celebrations lasted from the 24th of October 2777, until the day the marked 70 years since his coronation - October the 31st 2777. Just 2 years later, Vladmir celebrated his 100th birthday on the 21st of February 2779.
In July 2780, when Vladmir was 101, his health began to seriously deteriorate. On the first of August, his family gathered around his bedside, as they were told his life was ending. Doctors had thought that he would die that day, but he, in fact, survived another 3 days - dying on the 4th of August 2780, at the age of 101 years, 5 months and 13 days. His son Ivan was then crowned. The current Lord Vampire is Vladmir's grandson, Mortimer.
Community content is available under
CC-BY-SA
unless otherwise noted.