Lord Mortimer Vampire
Born
2740
Died
n/a
Species
Vampire

Other Info

Occupation
Lord of Vamparia
HomeWorld
Vamparia
Family
Lord Ivan Vampire (Father)


Lady Eleanor Vampire (Mother)

Lady Florence Vampire (Wife)
4 Children
8 GrandChildren

Lord Mortimer Vampire
(Mortimer Vladmir Eustace Vampire; born November 11th 2740) is the current "Lord Vampire" and ruler of Vamparia. He has ruled over Vamparia since the death of his father in 2787.
Early Life & Family
Edit
Mortimer Vampire was born on the 11th of November 2740, in Vampire Castle. He was the only child of Lord Ivan Vampire and Lady Eleanor Vampire. Mortimer was born in the 33rd year of his grandfather's reign over Vamparia. His grandfather was the infamous Lord Vladmir II. On his mother's side, he is descended from the noble house of Dengina, and the Barons of the High-Lands. On his father's side, he is descended from the noble house of rolux, and the Lords of Vamparia.
Marriage
Edit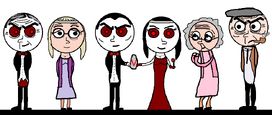 Mortimer fell in love with a human called Florence Kilrey in the early 2760s. In 2764, he proposed to her. When Mortimer's father found out of the engagement, he was furious, as Florence was a human. Florence, unwilling to live without Mortimer, allowed him to bite her and turn her into a Vampire. This deeply shocked Mortimer's father, but he allowed the marriage to continue now that she was a vampire. Florence and Mortimer were married on the 20th of July 2766.
Children
Edit
Mortimer and Florence had 4 children together. Their first son is Vladmir Vampire (born 2768), who is Mortimer's heir. The couple then had George (born 2769), Phillip (born 2771) and Anna (born 2773).
Mortimer's grandfather died at the age of 101 in 2780. Mortimer's father, Ivan, then became the ruler of Vamparia. Ivan died the day before his 77th birthday, on the 19th of January 2787. Mortimer was crowned the day after, on what would have been Ivan's 77th birthday, and has been the ruler of Vamparia ever since.
Grandchildren
Edit
Mortimer's children all married and have children of their own. Mortimer's son Vladmir is married and has 3 children - including Edmund Vampire, Mortimer's grandson and the second-in-line to the throne. George has a son, and Phillip has a son and daughter. Anna married into the Duchy of Hasturshire. She is married to Duke Rupert, and has 2 sons.
Ancestry
Edit
Ancestors of Lord Mortimer Vampire
Community content is available under
CC-BY-SA
unless otherwise noted.