King James IV of Kahzland (born James Richard Henry; November 11th 2690 - February 10th 2777) was the King of Kahzland from his father's death in 2760 until his own 17 years later. He is the grandfather of King James VI, the current King of Kahzland.
King James IV of Kahzland
Born
2690
Died
2777
Species
Human

Other Info

Occupation
King of Kahzland
HomeWorld
Kahzland
Family
King Owen II (Father)

King James V (Son)
Early Life
Edit
James was the only child, and heir, of King Owen II and his wife. James was raised by a nanny, and had a strict upbringing. It was rumoured that his father beat him, and this morphed James into the cold, selfish man that he was (as well as giving him a permanant limp.) 
James got married to an unknown woman around 2710, and she produced one son, King James V. James' son was also raised by a nanny, but James did not beat the boy as his father had done. James' grandson, also called James, was born in 2741.
King of Kahzland
Edit
James didn't become King until 2760, when he was 70 years old. He was an unpopular King. On James' 80th birthday, his first great-grandson, Prince James, was born. James only met the child once, and made the baby prince cry.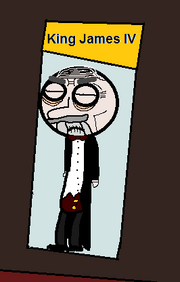 James finally died in 2777, at the age of 86, and his body is currently preserved in The Hall of Kings. Kahzland did not mourn for long, as the infamous rule of King James V had begun.
Community content is available under
CC-BY-SA
unless otherwise noted.