Commissioner Ohamton
Born
286
Died
368
Species
Minifig

Other Info

Occupation
Policeman, Police Chief, Commissioner
HomeWorld
LegoLand
Family
Duncan "Peg-Leg" Ohamton (Father)


Sophia Ohamton (Mother)

Faith Ohamton (Sister)
Isabella Gordon (Wife)
James Ohamton (Son)

Commissioner Mark Ohamton
(Marcus Henry Ohamton; June 22nd 286 - February 22nd 368) was a Policeman and, eventually, the longest-serving LegoCity Police Commissioner of all time.
Early Life
Edit
Mark Ohamton was the second of two children. His sister, Faith, was born a year before him. Mark's mother was Sophia Ohamton [nee Palap], who was the daughter of The Senate's first Prime Minister, Thomas Palap. Mark's father was the legendary Duncan Ohamton, who had helped defeat The Dark Lord, overthrow the corrupt monarchy and found The Senate.
Police Career
Edit
After Mark left school, he fulfilled his life-long dream of becoming a Police Officer. He joined The LegoLand Police Academy, and left 4 years later, having done the best that you possibly can - 100% in every exam, and getting 5/5 A**. He then joined the LegoLand police force, and started as an Officer instead of a constable, just because of how well he did in the academy.
Family Life
Edit
Mark married Isabella Ohamton [nee Gordon] in July 314. She was the daughter of Mark's boss, the police commissioner James Gordon. They had one child together, James Ohamton, in 316.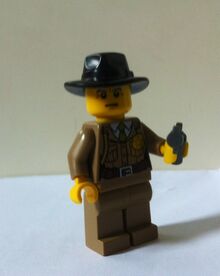 Promotion
Edit
After Mark successfully tracked down and arrested "The Orc-Strangler", who had been at large for 18 years, he was promoted from Police Officer to "Chief Inspector". It was a year later that he stormed into a bar, where Stormagedon and Lily were at, and tried to arrest the tavern owner for illegal gambling. This resulted in a shootout, where Mark was shot in the arm.
Police Chief
Edit
For his bravery in the shootout, Mark was made the chief of police in 320. Mark received multiple injuries during this time, but managed to recover from the all, including having his left ear lobe shot clean off by some gangsters in a shootout.
Commissioner
Edit
After Mark's father-in-law retired in 333, Mark was selected to replace him as Police Commissioner. Mark was the commissioner for the next 33 years, longer than any other commissioner. When Mark was commissioner, crime in LegoLand reduced from 41% all the way to 4% - lower than it has ever been, before or since.
Later Years
Edit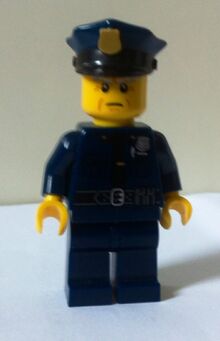 Mark loved his job, and took work very seriously. He retired at the age of 80 in 266. He died 2 years later, on the 22nd of February 268 - 4 months before his 82nd birthday.
Community content is available under
CC-BY-SA
unless otherwise noted.