Sir Claudius Bernard Bogen-Löwe, 1st Baron Bogen-Löwe (14th March 2655 - 7th November 2744) was the father of Queen Lily of Enkland, making him the maternal grandfather of the current King of Enkland, King Charles. 
Claude Bogen-Löwe
Born
2655
Died
2744
Species
Human

Other Info

Occupation
Soldier (Formerly), Brigadier of Enkland
HomeWorld
Enkland
Family
Claude Bogen-Löwe (Father)


Frances Bogen-Löwe (Mother)
Cecillia Bogen-Löwe (Wife)
6 Children
Patrick Bogen-Löwe (Brother)

Early Life
Edit
Claude was the first son of Claude Bogen-Löwe and Frances Bogen-Löwe. He had two younger sisters and two younger brothers, including Sir Malcolm Bogen-Löwe. Claude came from a distinguished and respected dynasty of war heroes and soldiers; the Bogen-Löwe family are often seen throughout history as great leaders and militaristic geniuses. For his fifth birthday, Claude's father built a wooden plane, which Claude could sit in. Claude would hours every day pretending he was flying it. This inspired him to, like his ancestors before him, join the military - particularly the air force.
Military Career
Edit
Claude joined the Junior Air Cadets of Enkland when he was 7 years old, and the Official Air Cadets when he was 13. He went to Enkland's most prestigious universities, and studied military history. Upon gradutaing, he joined the air force as a pilot. Unfortuantly, after just 2 years of service, Claude was discharged from his role of pilot after a serious helicopter accident, which killed 5 people. He was discouraged from flying due to the accident, as he injuries prevented him from flying safely. Despite this, Claude still wanted to work in the military, so joined the army instead. A few months later, in 2674, The Fourth Great War began. Claude fought as a soldier in the war from 2674 until 2680, where he was promoted to the rank of Sergeant. In 2682, Claude was part of the platoon which invaded Emperor Greivous' castle, where he killed Greivous after a gruelling fight. Claude retired from the army in 2687, after having his foot blown off, and having to get an artificial replacement. For his efforts in the war, he was created a life peer, by King George III, and became the 1st Baron Bogen-Löwe. It was at his peerage ceremony that Claude first met Prince Christopher, who would become one of Claude's closest friends.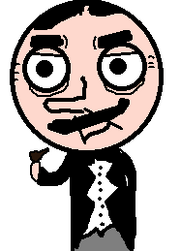 After retiring from the military in 2687, Claude married Cecillia Nickben, a 3rd cousin of Prince Christopher and a great-niece of Emperor Edward III of Suryor. Claude and Cecillia had 10 children, including Charles Bogen-Löwe (the grandfather of famous actor Warwick Joicey), Sir Claude Bogen-Löwe who succeeded Claude as Baron, and Lily Bogen-Löwe, who married Prince Ewan (the son of Prince Christopher, and the King of Enkland from 2755 - 2792).
Claude died on the 7th of November 2744, at the age of 89. He was buried in his family's mausoleum, and there is a painting of him with his wife, King Christopher and Christopher's wife in one of the studies in The Great Palace.
Community content is available under
CC-BY-SA
unless otherwise noted.